Natal, the capital of the state of Rio Grande do Norte, is around a million people pleasant climate, surrounded by green rainforest dunes, many beautiful sand and beaches, and the salty Potengi River.

All the beaches are good for swimming, take a walk, sit around, have a drink, meet people or just watch the paradisiacal landscapes. A few minutes from downtown, it's possible to get there by bus, van or taxi. From downtown, after visiting museums and churches, it's easy to walk north towards Ribeira and Rocas districts to take a cheap roundtrip ferryboat to Redinha Beach. A bridge was built to access the beaches of the North Coast. Watch the Reis Magos (open to visit) fortress and try the typical ginga fish tapioca sandwich at the fisher market. The best way to visit the urban beaches is to shore passing by the following beaches: Forte, Artistas, Areia Preta, Via Costeira and Ponta Negra. That's the crowd one with most hotels, bars, nightclubs, snack bars, stores, restaurants, etc. At night the Alto de Ponta Negra is the best place to go. Don't forget to take a swim at the warm water and take a picture at the famous Careca sand dune.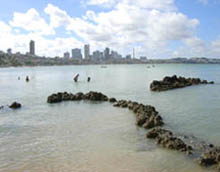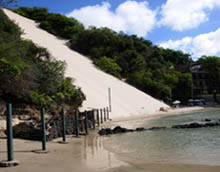 Ponta Negra
Ponta Negra's beach (south Littoral) is one of the most famous postcards of the city.
Ponta Negra is a nature caprice. In this tends on the beach we can taste goody like fried fish, crab and oysters. The Morro do Careca is its main natural attraction.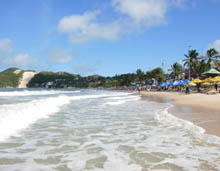 Carnatal 2007
The Carnatal is very much like a smaller version of the Salvador de Bahia carnival. It has nothing to do with Rio and São Paulo carnivals. In Natal the dominant rhythm is axé - from Bahía, although a new fussion of axé baiano and forró nordestino, known as forroaxé, is becoming increasingly popular.
This year the Carnatal will take place between 29 November and 2 December. Its dates usually coincide with the first weekend in December and the Thursday and Friday previous to that.
The Carnatal parades along a 3.5 km circuit that begins and ends in the Avenida Prudente de Morais. The artists perform on top of gigantic juggernauts [trucks], with larger than life loudspeakers on its sides.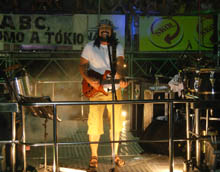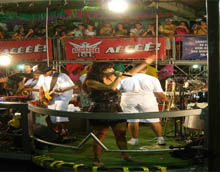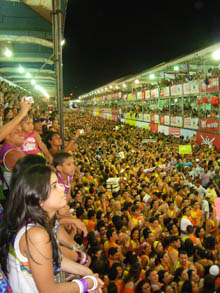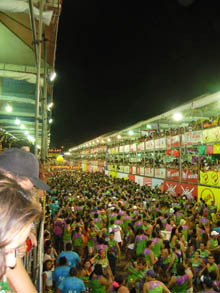 Videos
Accommodation in Ponta Negra
Are you looking for accommodation in Brazil? Just send and e-mail with your ideal accommodation and once we receive your e-mail, we will send you additional information for lodging available.